5 Best, Latest Technology, gadgets of 2018
In 2018 many technology companies have developed so many products, with so much consumer tech released throughout the year, it is very difficult to spot the products which are really creative in particular something to get excited about. Here are 5 Best, Latest Technology, gadgets of 2018
So here we are after a research with some of the really amazing products  whether you're just looking to upgrade your workstation, your office or home with fancy taking your creativity in a entirely new direction, keep reading to find out what's latest technology of 2018 which best suits for you.
01. Apple iPad (2018), students edition
iPad 9.7″ 2018
Apple has launched its new iPad 9.7″ (2018) student edition, though it is cheap but offers Apple Pencil support and boosted specs better than last year. It was launched on 27th of march 2018. With an introduction of new low-cost iPads with education software, again trying to be popular among students and teachers.
iPad with pencil
It is with same physical design as previous model, but this time screen has latest technology to support the Apple Pencil.
Again one thing frustrating is it still doesn't have laminated screen, as its predecessor. other than that there is no big changes, it contains the home screen button as we expected too. 5 Best, Latest Technology, gadgets of 2018
Processor: A10 Fusion processor

Storage: 32 GB entry level and 128GB upgraded one, it is also giving 200GB cloud storage free.

Camera: 8mp rear and 1.2mp front

.
10 hour battery
Gyroscope
Up to 300mbps LTE
Accelerometer
Compass

Price:
Here are the price listings
iPad 9.7in (2018, Wi-Fi, 32GB): £319/US$329
iPad 9.7in (2018, Wi-Fi, 128GB): £409/US$429
iPad 9.7in (2018, cellular, 32GB): £449/US$459
iPad 9.7in (2018, cellular, 128GB): £539/US$559
02. OWC ThunderBlade v4 SSD
The drive which is again a great example of amazing gadgets of 2018. It has the following specifications:
Transfer speed: Read – up to 2800MB/s, write – up to 2450MB/s | Capacity: 1-8TB | Software requirements: mac OS 10.13 or later, Windows 10 or later | Size: 29.0mm (h), 192mm (l), 124mm (w)

With a great fastest speed this gadget fits perfect for our heavy works which requires a high speed data transfer as in the case of 4k editing as the size of file increases the transfer time also increases and makes work lengthy, so here this OWC Thunder Blade ssd is for you, but it is little heavy to pocket as it costs around $1199.99 onwards.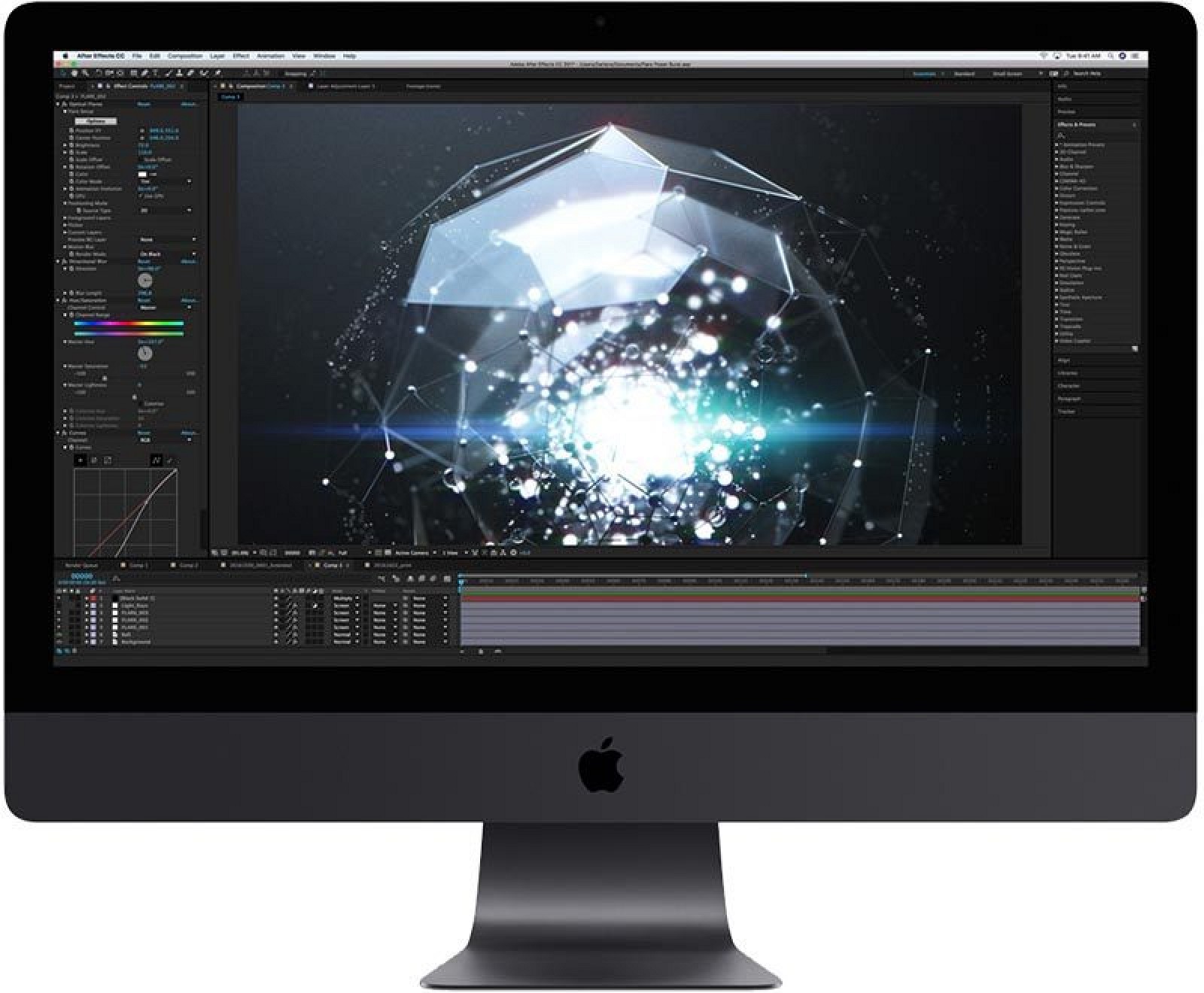 03.iMac Pro
Apple's fastest and most powerful product ever, but too expensive

Giving the mouth shut reply to all criticism, Apple is failing to fill the requirement of creative professionals Apple has launched its latest technology in iMac Pro which is the fastest Mac ever launched with a sleek space grey look.
It is configured with mammoth 18-core Intel Xeon processor. 
The iMac Pro has been configured with a mammoth 18-core Intel Xeon processor. To put that power in perspective, consider that a 10-core iMac Pro is almost twice as fast as a high-end 5K iMac and up to 45 percent faster than a 'trash can' 2013 Mac Pro.
It has 5k display along with 4TB of SSD storage hiden behind it, up to 128GB of ECC RAM and 16GB AMD Radeon Pro Vega 64 graphics.It also contains four Thunderbolt 3 ports,along with itself it can power two external 5k display or four 4k display on 60Hz. Also iMac have 10Gb ethernet port, sd card slot, 3.5mm jack along with four USB-A3.0 ports.The specifications in short given below.
Display: 27-inch 5K Retina | Processor: 8-, 10 or 18-Core | Turbo Boost: up to 4.5GHz | Memory: 32GB | Storage: 1TB | Graphics: Vega GPU | Size: : (h) 51.6cm x (w) 65.0cm | Weight: 9.7 kg | Connections: 10Gb Ethernet, four Thunderbolt 3 (USB‑C) ports, four USB 3 ports, SDXC card slot.
04. StarTech Thunderbolt 3 Mini Docking Stations
Make a multi-monitor workstation
Ports: x2 Thunderbolt 3, x1 Display Port, x3 SuperSpeed USB 3.0 ports, x1 Gigabit Ethernet, x1 headphone output, x1 Microphone input
Small and completely bus-powered
Gigabit Ethernet included
Are you looking to make a multi-monitor workstation by new Mac? Then Star Tech Thunderbolt 3 Mini docking stations is completely for you, it has additional ethernet and USB connection too.
the dula HMI dock given in it supports 2 HDMI monitors in 4k Resolution, whereas Display port can power two 4k or one 5k monitor, and the three thunderbolt cables supplies all the charges to the monitors required.
05. Microsoft Surface Dial (for Surface Pro 4)

SP4 support for Microsoft's creative puck
Compatibility: Surface Pro, Surface Pro 4, Surface Book and Surface Studio | Weight: 145g with batteries | Power: Two AAA alkaline batteries (included)

It Supports Photoshop and Illustrator.
Price is reduced from the time it launched.

Surface Dial is a completely new way to interact with technology and create in the most natural, immersive way. It can store, customize, access, navigate, and reimagine physical tools in the digital world – from concept to creation.
The Microsoft Surface Pro 4 was launched in October 2015 and has been superseded by the Surface Pro,which have a suport for Surface Dial. It costs arround $99.99. It is mainly made to help the graphics designers as it makes their work very easy by allowing all the necessary functions to be available at a single point on the screen.
5 Best, Latest Technology, gadgets of 2018
5 Best, Latest Technology, gadgets of 2018